Paintings on glass and perspex
These paintings on glass seem to hover weightlessly in front of the wall. The combination of glass, colours and light visualises the illusion: different conditions of tension are formed by shadowgraphs and reflections of the surroundings.
Organic motifs, fine lines of movements mix with centrifugal forces of translucent black like an abstact writing.
Diese Glasbilder scheinen auch dank der Abstandshalter schwerelos vor der Wand zu schweben. Durch die Verbindung von Glas, Farben und Licht wird die Illusion sichtbar: Unterschiedliche Spannungsverhältnisse entstehen durch die Schattenspiele und Reflektion der Umgebung.
Organische Motive, filigrane Bewegungslinien, die sich hier und da mit den Fliehkräften von opakem Schwarz mischen, wie eine abstrakte Schrift, die die Platte durchmisst.
-AM Siegel-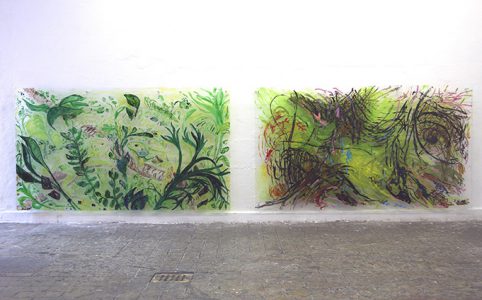 Malerei auf Glas und Plexiglas, 2000-2008